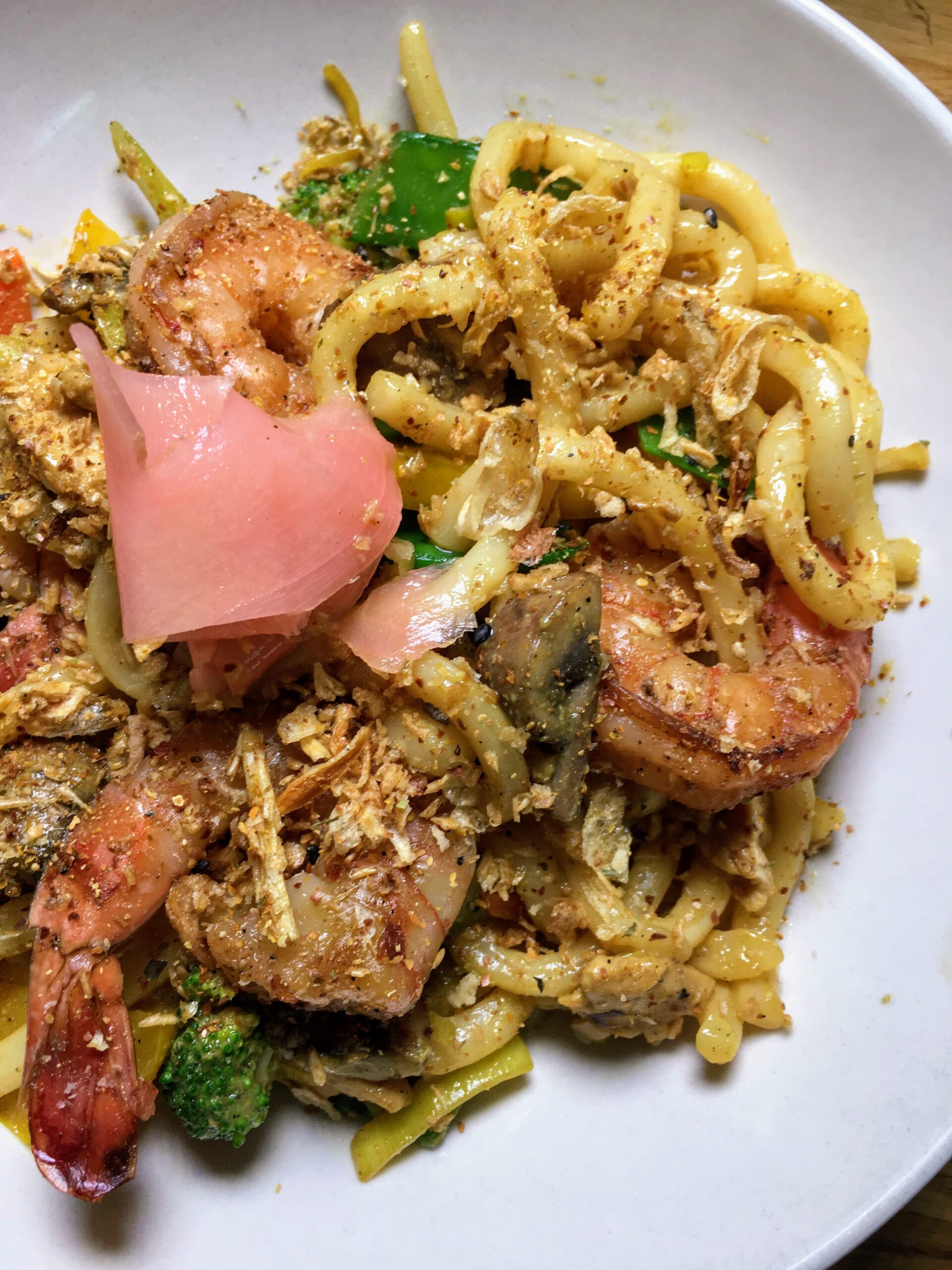 When I lived in London, one of the first restaurants I ate at was Wagamama's in Covent Garden. It was my first time trying Japanese noodles and the waiter recommended the Yaki Udon, one of their most popular dishes. From that day, Yaki Udon became my go-to dish. Whenever someone came to visit me from Canada I would take them to Wagamama's and get them to try the Yaki Udon too.
In 2005, after four years of living in London it was time to head back to Canada. I looked online to see if there were any Wagamama locations springing up in Canada. None in Canada, one in Boston. Too far to satisfy my craving. A friend who had also developed the Wagamama love suggested we open a franchise in Canada. We contacted the head office and at that time they weren't franchising in Canada. Boo!
Fortunately, by the time I returned to London for a visit in 2006 Wagamama had produced a cookbook which quickly made its way to my favourites.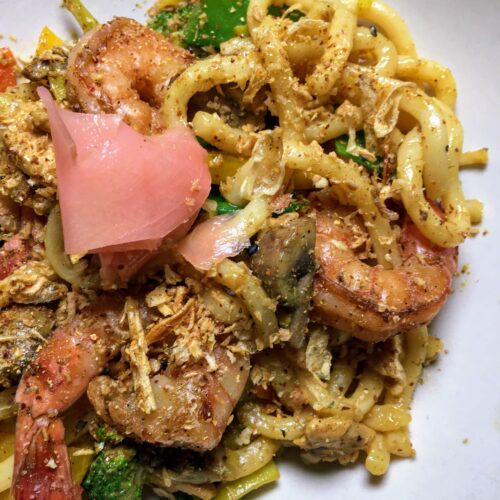 Yaki Udon
One of my favourite places to eat when I was in London was Wagamama. I tried their Yaki Udon on my first visit and it became my most frequently order dish. This version is adapted from "The Wagamama Cookbook" and packed with vegetables and flavour. The first step of the recipe is making the curry oil. To make this quicker you could just buy a Singapore Noodle Paste, but the flavour won't be quite the same. The curry oil recipe makes enough for several meals. I put it into small containers and store it in the freezer.
Ingredients
Curry Oil
2

leeks

finely chopped, white and green

2

onions

finely chopped

1

inch

fresh ginger root

finely chopped

4

garlic cloves

finely chopped

1

cup

vegetable oil

1/2

tsp

dried red pepper flakes

1

bay leaf

1

cinnamon stick

2

star anise

1/2

tsp

paprika

1

tsp

curry powder

1/2

tsp

tumeric
Yaki Udon
1

boneless chicken breast

1

tbsp

sake

1

tbsp

mirin

2

tbsp

soy sauce

1

tsp

sugar

4

packages

udon noodles

individual size

2

eggs

4

tbsp

curry oil

recipe above

3

tbsp

soy sauce

4

tbsp

vegetable oil

12

shrimp

large

1

cup

broccoli florets

8

mushrooms

sliced

1

leek

finely chopped

1

red pepper

sliced into thin sticks

1 1/2

cups

bean sprouts

rinsed

4

tbsp

dried shallots or fried onions

2

tbsp

spicy fish powder

2

tsp

pickled ginger
Instructions
Curry Oil
Put all ingredients into a small pot. Cook over low heat for 1 hour stirring occasionally, unti vegetables are completely softened and mushy. Cool then strain, pressing against the solids to squeeze out the oil. Reserve the oil and discard the solids. To use in Yaki Udon, set aside four tbsp of oil and store the remainder in the freezer in tbsp servings (baby food containers are perfect for this).
Yaki Udon
Thinly slice the chicken breast.

In a small bowl mix the sake, soy sauce, mirin and sugar until the sugar dissolves. Pour over the chicken and leave to marinate for at least 30 minutes.

Cook the udon noodles in a large pot of boiling water for 2 minutes. Drain and rinse under cold running water and put into a large bowl

Beat the eggs, curry oil and soy sauce together and mix into noodles.

Heat the wok over medium heat until completely hot. Add in 1 tbsp of the vegetable oil. Add the chicken and any remaining marinade and stir fry until cooked, about 3 minutes. Once fully cooked add to the bowl of noodles.

Add the shrimp to the wok and stirfry until pink. Set aside.

Add another 2 tbsp of oil to the wok. Add the broccoli florets and stirfy for a minute. Add the mushrooms and stirfry for another minute. Add the red pepper and leeks and stir fry for another minute. Add the beansprouts and immediately add the bowl of egg covered noodles and chicken. Stirfry quickly until the egg is cooked and the noodles are hot.

Divide between four plates and top with three shrimp, fried onion, sprinkling of fish powder and pickled ginger.
Notes
The recipe for the curry oil will make enough for about six meals. Store in small containers in the freezer. 
The vegetables can  be switched to what ever you have on hand. The original Wagamama recipe uses shitake mushrooms, leeks, bean sprouts and red pepper. I like to oomph up my veggies with broccoli, carrots, snowpeas and carrots.
The original recipe also calls for Chikuwa, Japanese Fishcake. I left this out, but for more authentic Wagamama Yaki Udon slice into 1/4″ rounds and add it in.  
This Yaki Udon recipe is based off the Yaki Udon recipe in "The wagamama cookbook". It's been eight years since I've been to London and had the authentic Wagamama version, but my memory tells me this one is pretty close.