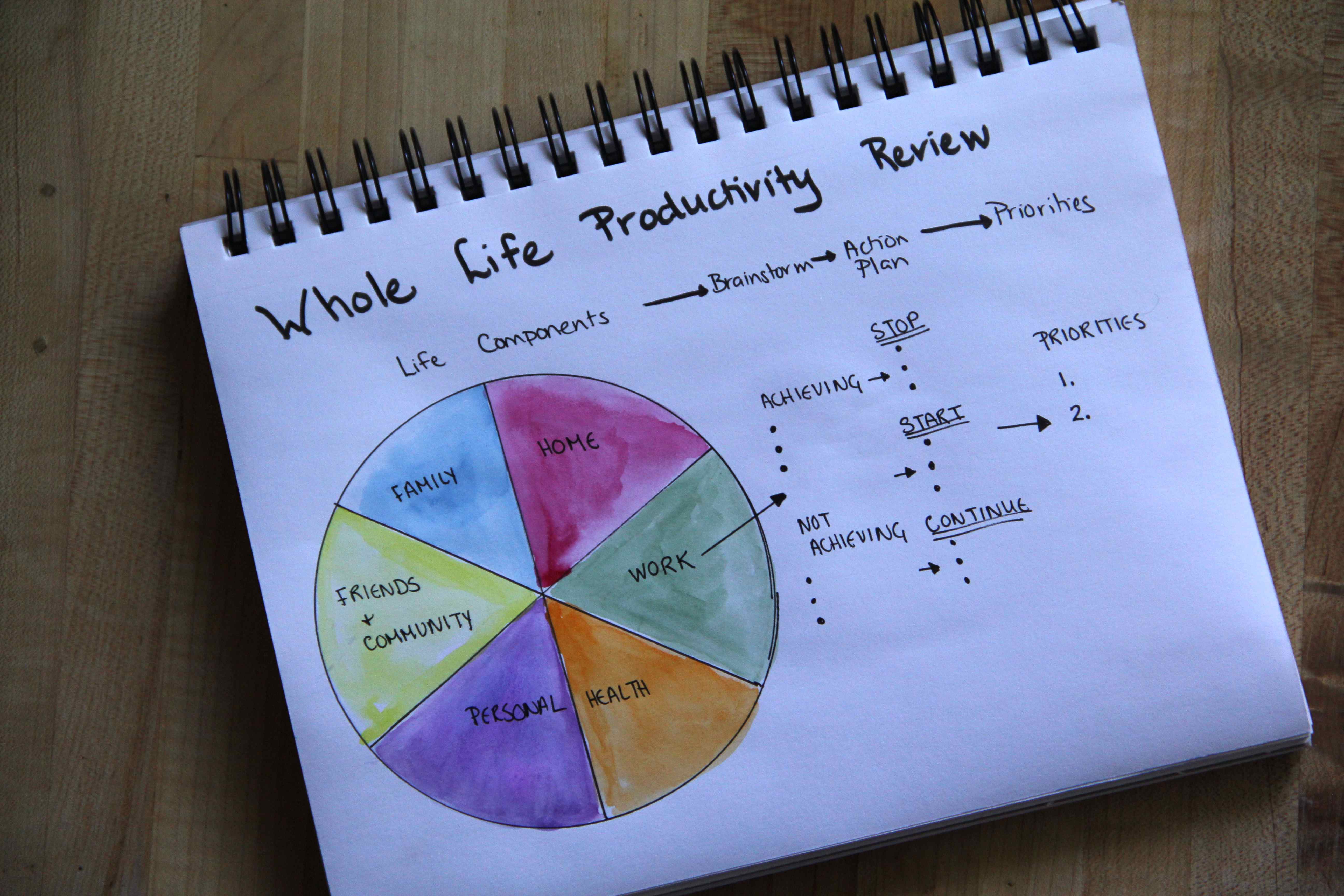 How often do you find you make a commitment to do something, something for yourself or in support of a longer term life goal, only to find the day to day has taken over, and the choices you've made in how you spend your time, were made in the short term pressures of the moment, rather than the long term view?
More than once? Frequently over a long term period? Yup – me too…  And the sad thing about this, is that while we might be accomplishing a lot we probably are not making the most of our precious time and in turn, not living our best lives. In fact, you may have noted the nearly two year lapse in my blog posts where the date of the beginning of the two year lapse coincides with my return to work from my first maternity leave. Blog posts weren't the only thing to suffer – commitments to exercise, spend quality time with hubby, and keep in contact with friends also fell by the wayside. After time was paid out to work, home chores, caring for children, etc, I found very little available to me and when I did have it, I lacked the brain power to be creative and do something meaningful – I needed the time simply to recover and typically in front of some brainless TV show.
Now on maternity leave for the second time, I'm looking to put the systems, frameworks, and principles in place that will allow more whole life productivity and happiness now and when I return to work – and use this blog as a place to capture my learnings.
What's whole life productivity? My working definition is:
maximizing the return on the investment of your time by knowing what you want from your life overall and then making the day to day choices that align to that. And – at the same time, embracing and appreciating the many wonderful moments life has to offer by being present in the now.
I already have my life vision. Now I need to figure out how to make it happen. Using my training as a coach, I created the process below to identify the areas I need to focus on. The results – lots of insights and a re-energized belief that it is possible to have the life I want, right now. The process is laid out below, with the option to
cheap priligy online
to guide and record your responses.
(Note: To help figure out a vision of what you want from life priligy generic cheap before the process outlined below)
Step 1: The Components of Your Life
First identify the main categories of your life that make up the "Whole" part of "Whole Life Productivity". Breaking them down this way recognizes we don't care about all aspects equally and that we have different levels of skills, resources, tools and decision making power in the different categories ( e.g., work versus personal time). For me, the following were top of mind  (not in priority order) – you may have something different:
1) Work
2) Immediate family (e.g., spouse, kids, pets)
3) Friends/extended family/Social
4) Health (e.g., exercise, doctors appointments, eating healthy – I don't particularly enjoy exercising so not personal time in my books and therefore the two needed to be separate categories. Also – while health is something I do for myself paying attention to it also invests in the future of my husband and children and employer. Looking at it this way, helps me not to de-prioritize it over the needs of others.
5) Personal (me time!! Hobbies, learning, growth, etc)
6) House/Home (e.g., chores, meals, shopping)
Step 2: Developing Insights
For each category I carried out A, B, and C steps below. I did just one category at a time, in one sitting and completed the full exercise in one week. At the end I had some clear insights and focus areas for moving forward.
Step 2A) What's being achieved?  
Brainstorm on what is actually being accomplished in each of these categories. Pat yourself on the back! Then, for each item ask:
Is this something I should be spending my time on?  More specifically – is this something that needs to be done?
Is it something that I personally need to do or is there someone else that could do it? (e.g., your spouse, a willing in-law, a colleague if work related, can it be hired out? )
Is it an activity that I enjoy doing? If yes – it may be a reason to continue, even if it's not essential.  For example: I personally make bread for my family. It's not something I need to do – I can buy bread that's as good and as healthy as that I make, but I do it because I enjoy it
Is there an opportunity to improve how this is done to optimize enjoyment or productivity?
Step 2B) What's not being achieved?
For each of these activities again asked yourself:
Is this something I should be spending my time on? Is this something that is essential?
Is it something that I personally need to do or is there someone else that could do it?
Is it an activity that I would enjoy doing?
If this is activity is important and/or essential, what do I need to do to ensure it is getting done? (E.g., hire someone to do it, schedule time)
Is there an opportunity to improve how this is done to make it more enjoyable or efficient?
Step 2C) Stop, Start, Continue Action Plan
Reviewing the above results, summarize using STOP, START, CONTINUE
STOP: What am I currently doing that I need to stop doing?
START: What am I currently not going that I need to start doing?
CONTINUE: What am I currently doing that I should continue doing?
Step 3: Priorities/Focus Areas
At this point I had some good insights and was feeling energized about making some changes. But – I also know this is often my downfall, because I bite off more than I can actually achieve. So… I reviewed the STOP, START, CONTINUE to identify:
What actions can be taken immediately? For example, if you identified that you would hire someone to cut those hedges, highlight it and block time to do this within the next few days
What actions are longer term? For example, to change a habit or integrate a new activity or new way of accomplishing something. Here I picked 1-2 priority areas to focus on for each category. It may be tempting to take on more, but you can always come back to this list as a later date, once you have made progress on the other areas
Step 4: Plan for Action and Follow-Up
Now, identify how you will incorporate and achieve those immediate priorities and set yourself a calendar reminder to come back to this plan and see how you are doing in a couple of weeks.
In my following posts, I'll share how I'm tackling some of my own priority areas.