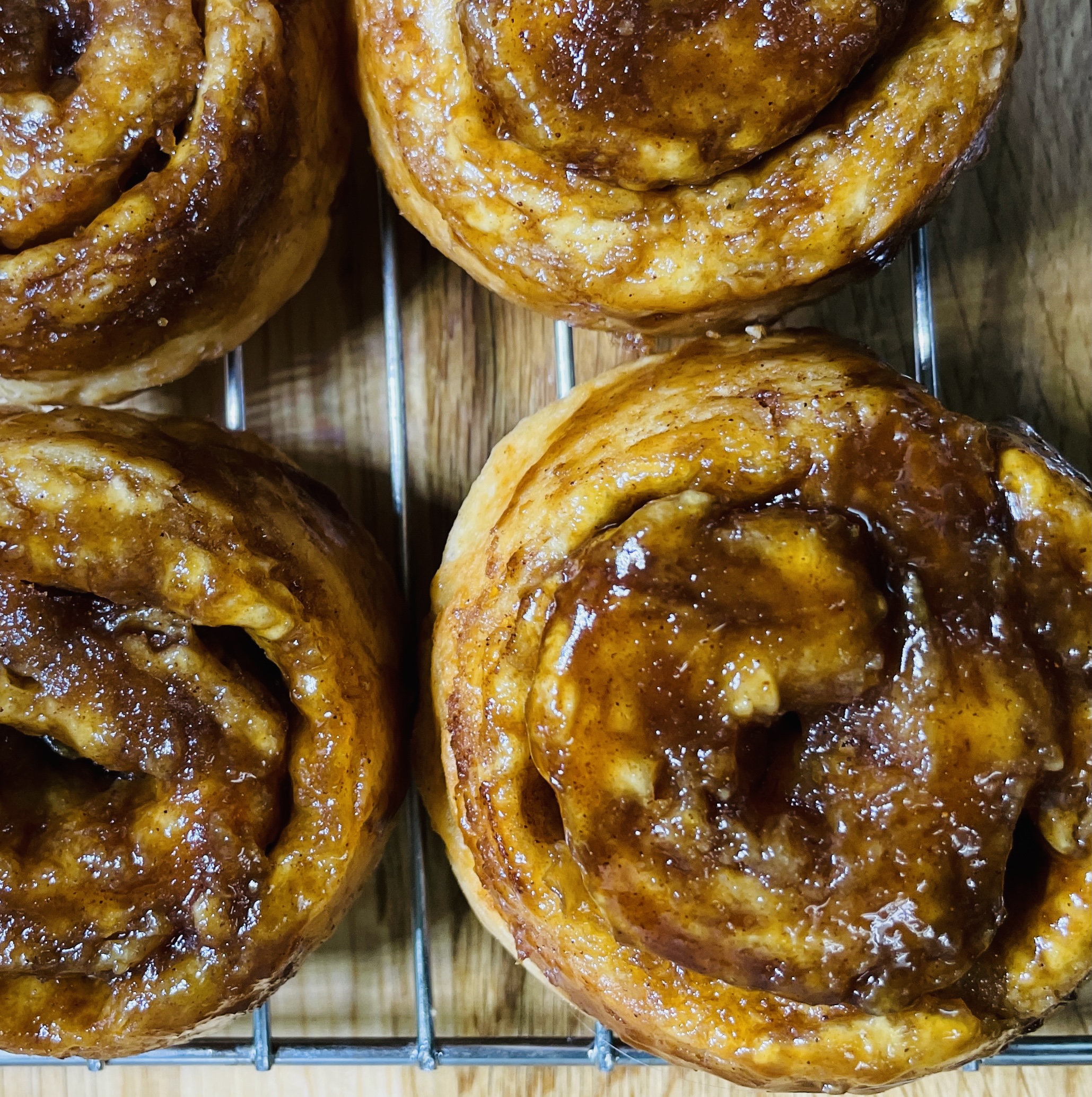 Last week my brother and I spent a few days with my mom, helping her clear out things from the house she has lived in for 50 years. It was an emotional trip down memory lane, with many laughs and a few tears. My dad passed away seven years ago this month, and giving away his things was another step in letting go. I also said goodbye to the diapers, baby toys, infant Tylenol I had kept at mom's – my babies are no longer babies. And there was also my own childhood toys and treasures.
Books were one of the few things that came home with me and in one of them I found a recipe card for these cinnamon buns – one of mom's signature baked goods.
Mom seemed to make these weekly and would always double the batch, so she could bring some to a friend or her church. I remember watching them cool, their caramelized tops shiny and tempting. And running my finger around the bottom of the muffin tin afterwards to try to get up the last of the sugar.
I made them this weekend and they were just as I remembered – the sticky caramelized cinnamon sugar, the crunchy donut like exterior and the tender, flaky cinnamon centre. And my kids ate them just like we used to – all 12 disappeared in moments. Next time I'll double the batch so I can share them, like mom always did.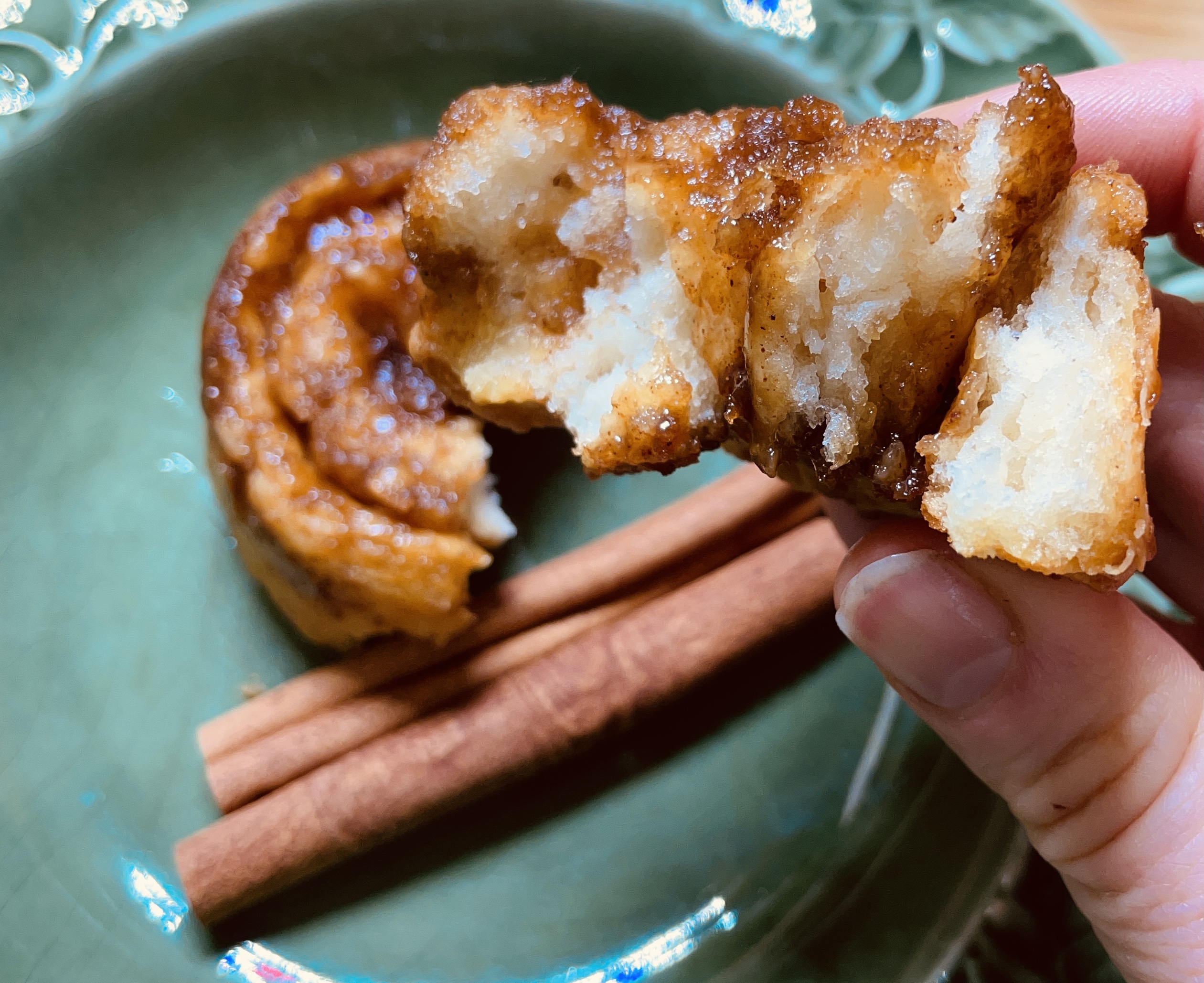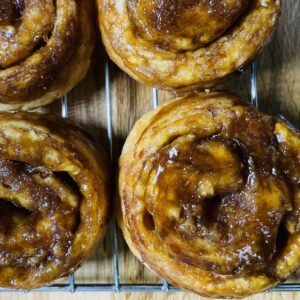 Mom's Cinnamon Buns
Caramelized top, crunchy outside and flaky, cinnamony sweetness inside. What else could you want? Some pecans and raisins? Ok – we can throw them in too. These whip up in a flash and are perfect to serve with coffee, brunch or as a dessert. They are made in 12 muffin cups, so technically should serve 12, but my family of five polishes them all off in a morning.
Ingredients
Filling
1/2

cup

butter

softened

1/2

tsp

cinnamon

1

cup

brown sugar

lightly packed

1/2

cup

chopped pecans

optional

1/2

cup

currants or raisins

optional
Biscuit
2

cups

flour

4

tsp

baking power

1

tsp

salt

1/2

cup

butter or shortening

cold

1

cup

milk
Instructions
Preheat oven to 425 Fahrenheit.

In a small bowl mix the softened butter, cinnamon and sugar until well combined.

In a large bowl mix the flour, baking powder and salt.

Grate the cold butter or shortening into the dry ingredients and lightly toss together.

Make a hole in the centre and add the milk. Stir just until combined to make a soft dough.

Put the dough on a lightly floured surface. Gently fold and knead about 10 times.

Roll into a 9" by 9" square 1/3" thick. Spread with the butter mixture. Sprinkle the pecans and currants over top if using.

Roll up jelly roll style and slice into 12 even slices. Put cut side down in muffin tins.

Bake for 15 minutes, until golden.

Remove from oven and quickly put on cooling rack, bottoms up. If desired, spoon more of the caramelized cinnamon sugar from the bottoms of the muffin tin on top. Delicious warm or cool.