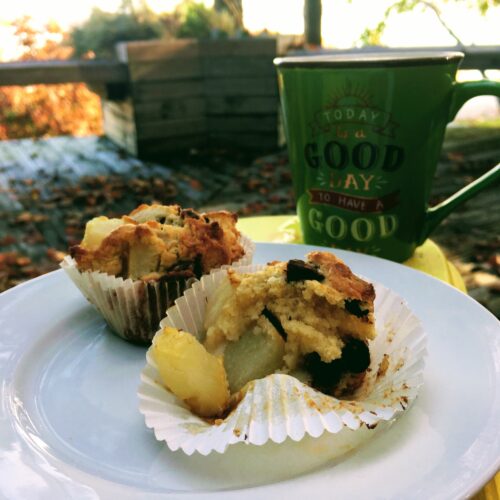 Pear, Ginger and Dark Chocolate Muffins
A delicious fall treat, the dense crumb is a cross between a scone and a cake. They are delicious warm, but keep their flavour and moisture into the next couple of days. This makes 12 large size muffins. Use 18 cups for a more modest sized muffin and check to see if done at 20 minutes. After they have fully cooled store in an airtight container.
Ingredients
2 1/2

cups

all purpose flour

2

tsp

baking powder

pinch

salt

7

ounces

butter

softened (3/4 cup plus 2 tsp)

1/2

cup

brown sugar

packed

4

tbsp

granulated sugar

2

large eggs

1/3

cup

milk

1

tsp

vanilla

1

tbsp

fresh ginger

grated

2

pears

chopped into small chunks

1/3

cup

dark or bittersweet chocolate chips
Instructions
Preheat the oven to 325 F

Line a 12 muffin pan with paper liners

Stir together the flour, baking powder and salt. Set aside

In a stand mixer, combine the butter, brown sugar and white sugar at medium high speed until light and fluffy, about one minute.

Beat in the eggs until fully incorporated.

Reduce the speed to medium and add in the milk, vanilla and ginger.

On low speed add the dry ingredients just until incorporated. Don't over mix.

Gently fold in the pears and chocolate chips just until evenly distributed.

Spoon the batter into the muffin cups.

Bake until a skewer inserted in the centre comes out clean, about 25 minutes.
Preheat the oven to 375 C.

Cover the sultanas/raisins/dried apricot in 1/2 cup of very hot (just boiled) water. Set aside for 10 minutes.

Combine the cumin, cinnamon, turmeric, cayenne and salt with the honey and olive oil. Mix with the sweet potato chunks. Spread on a baking sheet lined with parchment and bake in hot oven for 20 minutes, or until tender, flipping half way.

Boil 3/4 cup water in a small saucepan. Add the salt and olive oil, then the couscous. Stir to combine, then cover the pot with the lid, remove from heat, and let sit for 5 minutes.

If using pistachios crush with a rolling pin or pestle and mortar. If using almonds toast lightly in a dry pan over medium heat, removing from the pan as soon as you start to see a light brown colour.

Add the soaked sultanas/raisins/dried apricot to the chickpea filling. Heat to desired temperature in the microwave, on the stove or in a small ovenproof dish alongside the potatoes.

To assemble: Mound the couscous in the bottom of the bowl. Surround with the sweet potatoes on one side, and the curried chickpea mixture on the other. Sprinkle with the nuts and cilantro if using.